Our long-term investment in the development of innovative products and their placement in numerous markets have been awarded the "Golden Key" award for the most innovative exporter in 2020. By awarding the "Golden Key", all winners are given recognition for their hard work in sales and exports to foreign markets. The award for the most innovative exporter was taken over by the director, Zvonimir Viduka.
The award ceremony was held on September 1, 2021 at the 16th Convention of Croatian Exporters under the auspices of the Government of the Republic of Croatia. The ceremony was attended, on behalf of the Government of the Republic of Croatia, by the Minister of Economy and Sustainable Development Tomislav Ćorić and numerous representatives of institutions as well as representatives of the most successful export companies.
The Minister of Economy and Sustainable Development emphasized that exporters really deserve a special place in the Croatian economy, and that their efficiency and competitiveness on the international market shows the strength of the Croatian economy. President of Croatian Exporters Darinko Bago pointed out that exporters, who hold 15 percent of the total number of companies, employ 51 percent of the total number of employees, make 57 percent of investments and 67 percent of sales revenues. Emphasizing that one of the basic conditions for the growth and acceptance of new technologies is the educational structure of the population, Bago warned that Croatia could also lack IT experts to implement the digital transformation.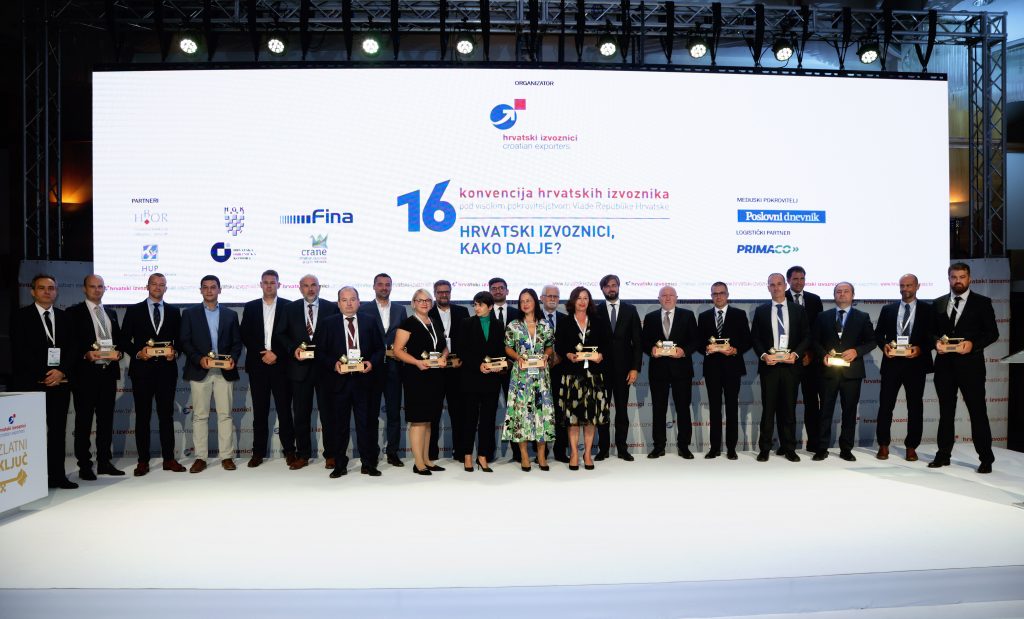 Zvonimir Viduka reveals in a short interview how to solve such challenges and what is the recipe for success and the title of "most innovative exporter".
You have been awarded the "Golden Key" for the most innovative exporter for 2018 and now, for 2020. What do you think contributed most to that recognition?
Our commitment to the philosophy "innovation is a way to stay competitive in the market" contributed the most. We are a narrowly specialized and world-class small company whose strength lies precisely in this flexibility and ability to respond quickly to a variety of challenges. This is what brings and keeps customers with us. For this reason, we are recognized today globally in our industry and continue to work in that direction.
Last year you also received the "Golden Key" Award for Best Exporter in India, how is the cooperation with India progressing this year and are you working on some new projects in India and China?
Cooperation with India and China has never gone better. While in China we equip monorail, metro or tram lines with our control systems, in India it is a large volume of work on classic lines that are being built at an incredible speed. India will build as many kilometers in a year as Croatia has a total of kilometers of railways, which is enough information about their orientation to the railway. This is a long-term perspective for other products as well. We are currently completing the certification of a new product for the Indian market whose first deliveries start in October.
What are your plans to keep the title of "most innovative exporter", are you preparing new innovative products and new export markets?
The InnoTrans 2022 fair will be the most important for us so far, because we will present a whole range of new products that we worked on at this time of the pandemic at this world fair. A new system for automatic train protection, a new train detection system that brings us to the absolute top of our industry and new, smaller products that we have made especially for individual customers will be presented. We expect great interest because we have developed products for both general and specific customer needs. That is why we received a special position from the InnoTrans fair in the newly built hall where the "cream" of our industry gathers. This is a great confirmation of our good work and continuous innovation.
What do you see as the biggest challenge in the further growth of the company and do you have a problem with the lack of qualified workforce like IT professionals and similar professions?
The current situation on the labor market and the component market is not great. With a shortage of software and hardware experts, long delivery times for key components as well as disrupted supply chains due to the pandemic, it is not easy to plan. However, we believe that trends will change soon and that we will be able to fully normalize business and return to pre-pandemic times. For us, this period went well, there were no major disturbances, but for some of our associates the situation was not good. All in all, we look forward with our heads held high and continue following the same recipe.