Railway level crossings (rail and road intersections) have always been hazardous places and have claimed the lives of many who misjudged the speed of an approaching train. As an innovative and safety oriented company, ALTPRO's mission is to reduce the risk and improve the level of safety at level crossings. The ALTPRO's solution is called RLC23 – advanced electronic level crossing protection system that has been extensively tested and certified for CENELEC SIL4 applications by TUV Rheinland in Germany. Among more than a dozen countries on 3 continents (completely different customers and applications) where RLC23 had already been installed, the system has recently been certified by AFER for use in Romania as a first fully electronic level crossing protection system in Romania.
Level Crossing Protection System RLC23 by ALTPRO
RLC23 global presence shows that system has a high level of flexibility and adaptability (obstacle detection, video surveillance, additional signalization, remote supervision, interfacing with any kind of signalling systems…) which is not optional but mandatory in modern times. The system is developed in accordance with all relevant EN norms and it is certified for SIL4 by the independent safety assessor (ISO/IEC 1020 – Type A) TÜV Rheinland in Germany. ALTPRO is also working quickly and efficiently on modernization of old level crossing protection systems which are becoming modern and reliable solutions with minimum investment.
Safety is a priority
RLC23 uses the ALTPRO BO23 axle counter system (which has its own TÜV Rheinland certification for SIL4) for safest and most reliable detection of train movement. ''Brain'' of the system is APIS-RLC central control unit (platform) which is composed of two sub-systems (A and B) with distributed processing and functionality control modules for controlling respective groups of external devices. All platform modules are connected over safety CAN bus with unique addressing and hot-swap functionality for easier and faster maintenance. Replacement of one module doesn't make influence to operation of other parts of the system. Axle counter BO23 evaluator can control up to eight counting points distributed over up to six sections. The equipment layout in the cabinet can vary depending on the number of required LX outdoor equipment. APIS-RLC control platform has 2-out-of-2 architecture.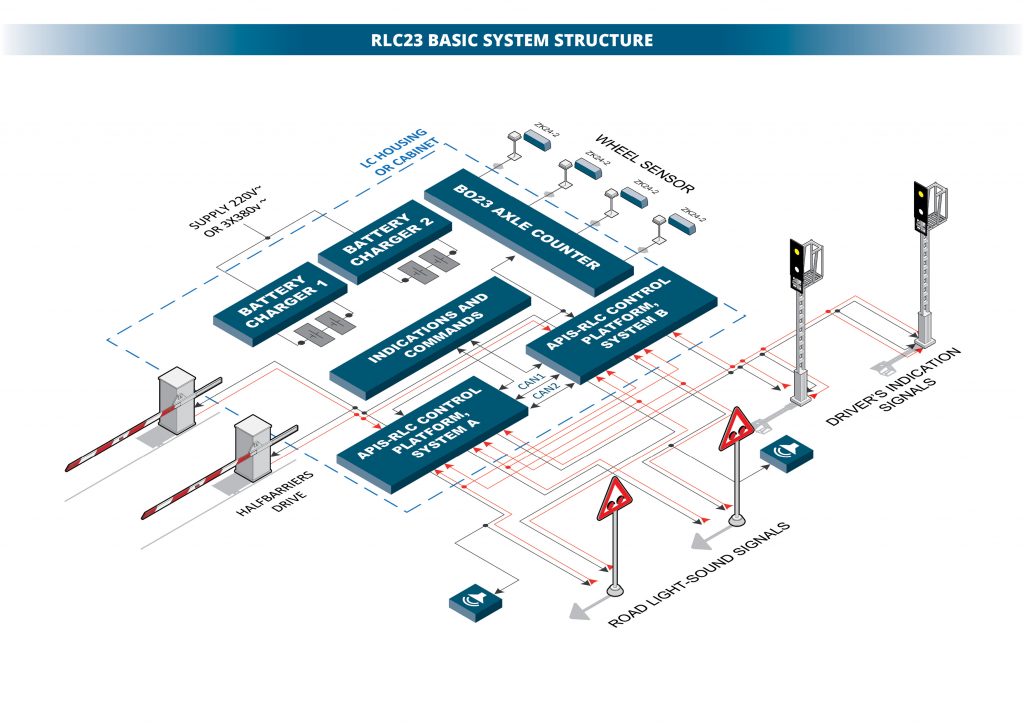 Functionality
RLC23 system provides light, sound and/or physical protection to a level crossing site. Any kind of train detection subsystem (axle counter or track circuits), road signalisation, train driver signalisation, barriers, obstacle detection and similar subsystems can be connected to RLC23 central unit (cabinet). Its high configurability possibilities are provided through unique PC application – time parameters of outdoor equipment, a number of outdoor units controlled, different information to be received by the interlocking/AP… RLC23 central device can be adapted to virtually any LED or driver's signal available on the market.
Functionality of RLC23 system is highly configurable and ALTPRO project organisation achieves easy product adaptation to different customer requirements and applications. The APIS-RLC23 control system continuously receives information about rail occupancy/train position and direction over a counting point from the BO23 axle counter system. Any train movement will automatically lower or lift the boom depending on the train position.
Maintenance
System maintenance is reduced to standard reviews by the railway personnel and there are no specific demands. A small number of different modules makes spare parts stock much easier to maintain and manage. Hot swap technology enables exchange of the modules while still in operation. Expandable internal memory offers useful information which makes maintenance easy and quick. System monitoring is real-time and can be performed remotely using operator panels, cloud diagnostic server or smartphone.
Analytics
A wide range of diagnostic data can be transmitted remotely to the smart phone, tablet or any other device. Automatic text messages can be sent to the mobile phone in case of any disturbance or irregularity in system operation. Event registration can be read locally (USB) or remotely (GSM/3G).
Connectivity
Connection to relay, semi electronic and electronic interlockings is a standard and simple procedure. Wi-Fi connection to smartphone/tablet is implemented in order to gain system status information. There is a possibility of remote data transition and archiving via CENDIS (ALTPRO central diagnostics system). Any kind of serial protocols can be implemented while HW already supports RS232, RS485, CAN and Ethernet.
Versatility and adaptability are essential
The control system can be configured for additional functions that may be necessary for a particular application and to comply with various operational regulations. The RLC23 system can control up to four tracks with one control system/evaluator. One ALTPRO BO23 axle counter system can perform complete train detection on two tracks of an open line. When track-side railway signal lights that inform the train driver about level crossing conditions are installed, this system controls their on and off cycles and continuously monito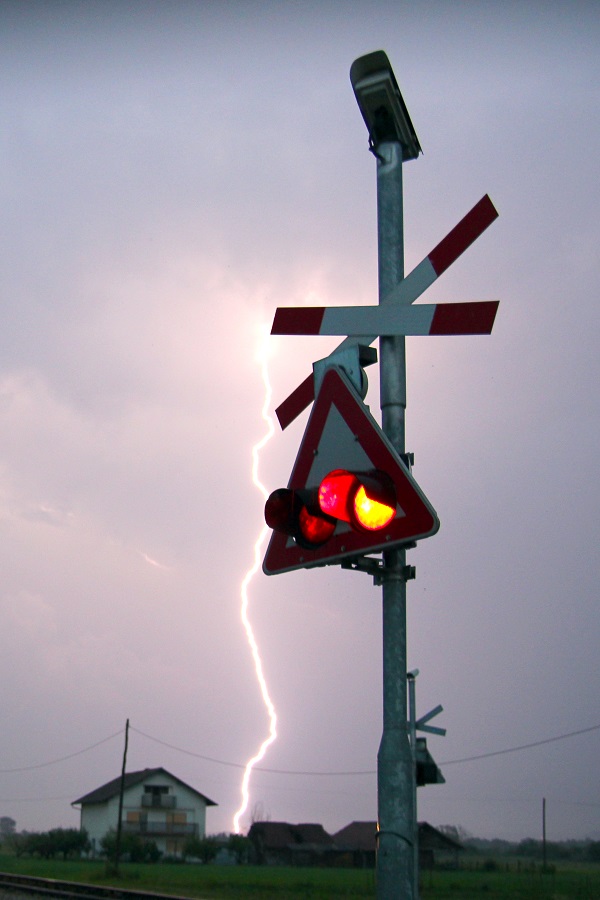 rs the current reaching each filament/LED lamp. In terms of booms, two pairs can be controlled. An additional pair can be added only if they operate simultaneously with one of the first two booms, which will be operated at the same time. The lifting and lowering time of the booms is programmable to suit the site requirements. Should a boom be damaged, level crossing control will alert the operator. Different types of barrier drives are offered for different markets.
Regarding roadside lights and signals, authorities in various parts of the world have their own site requirements for the shape and number of signals/lights. This equipment may be of various types and can be made by any manufacturer. Behaviours, types and different measurements can be adjusted using PC windows application without the need for system redesign. RLC23 has three stage lightning/over-voltage protection, certified EMI immunity and IP protection for operation is harsh environments.
Article published in Railway PRO | January 2019